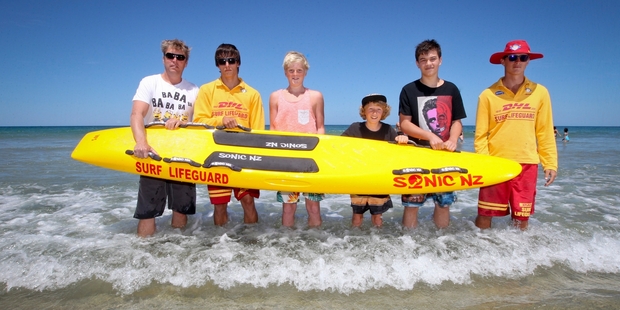 It was right man, right place, right time as Napier Aquahawks swimmer Hadlee Dyer rescued fellow 13-year-old Jackson Ranapiri at remote Waipatiki Beach last week.
Jackson is back home in Bay View, where the boys live a few hundred metres apart, but grateful mum Lisa Ranapiri says but for Hadlee's quick reaction it could have much different.
She says that watching from the shore, a moment's fun became a moment's horror as her son copped a stunning blow from a wave and disappeared.
Hadlee had the "foresight" to grab Jackson's singlet and pull him up, although struggling to support the possibly-concussed boy in "significant" waves in waist-deep water.
Others helped get him on to a girl's boogie board, and other family members were joined by patrol members as the boy was taken ashore, where he quickly recovered.
"We have no doubt Jackson would have become lost in the waves for much longer had it not been for the quick actions of Hadlee who was swimming beside him," Mrs Ranapiri says.
"We are very relieved to be able to say Jackson was completely fine after his ordeal. But the outcome could have been devastating."
Crucial factors in the December 30 rescue were Hadlee's own water skills, knowing Jackson was incapacitated and needed help, submerged, motionless and about to be dragged away by the surf, and the presence of the new patrol.
Mrs Ranapiri was "very grateful" to those who helped, from Hadlee, to the unknown girl with the board and fellow teenager Simon Wakeman, to lifeguards Liam Foley, Luke Harman and Taine Williams.
"We hope that the Waipatiki Beach Patrol continues to receive financial support to operate in the future," she said.
Rescuer's mother Megan Dyer is "very proud" of her son, who is now back to daily training for the national junior swimming championships, at least an hour and a half morning and night."He is very confident in the water," she said.
She's also rapt with the new patrols, in place for four weeks during the busiest part of the summer and said: "The lifeguards were fantastic. It's such a blessing having them there."
Supervising lifeguard Mr Foley said beach safety and rescues at Waipatiki in the past had been in the hands of the locals, and the patrols had become particularly effective in identifying the safe areas.
Last week's incident happened within the flagged area, and Hadlee said he just "reacted" when he realised Jackson was in trouble.
For more articles from this region, go to HAWKES BAY TODAY