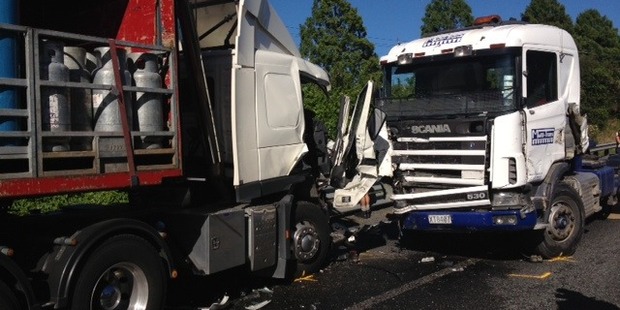 Two drivers are in hospital - one with serious injuries - and road diversions are in place after a two-truck crash in the Waikato this morning.
The seriously injured man was trapped in a truck carrying dozens of gas cylinders after the head-on collision near the Mangawhero bridge close to Matamata shortly after 6am today.
Fire Service Northern communications shift commander Jaron Phillips said the gas load was stabilised while emergency crews worked.
The other truck involved had also been winched out of the way to allow access to the cab of the first truck.
Sergeant Dean Kaio of the Morrinsville police traffic unit said the two trucks had collided on a narrow stretch of road.
"I think at some stage one of the vehicles has gone onto the wrong side of the road," he said.
Sgt Kaio said one of the drivers was able to get out on his own was was taken to Waikato Hospital.
The second driver had to be extracted by local fire services before he was airlifted to hospital "with some reasonably serious injuries".
Sgt Kaio said the sheer nature of the hazardous material and any sparks or fire that may have eventuated from the crash could have made things more serious.
"So we were reasonably lucky," he said.
"For me I think it's about speed on our roads especially when they're as big as these vehicles are. It may well be that speed is one of the reasons why this particular crash occurred."
"I think the message to everyone is that speed does more damage the faster you go and today was a good illustration of that."
- APNZ