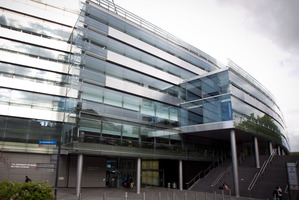 A student has died at a building in the University of Auckland business school.
A spokeswoman from the university confirmed there had been a death this morning, and the Owen G Glenn Building had been closed to students for the day.
Police and ambulance staff were called to the incident, she said.
Several people contacted the New Zealand Herald about the death - with one person saying someone had fallen to their death inside the building.
The university spokeswoman said that out of respect for the dead person's family, no further comment on the circumstances of the death would be made.
Counselling was available for staff and students, she said.
A police spokesman said the death was not suspicious and the matter had been referred to the coroner.
In November 2012, a man in his 20s fell six stories to his death in the same building in front of a crowd of students preparing for exams.
Where to get help
• Youth services: (06) 3555 906
• Youthline: 0800 376 633
• Kidsline: 0800 543 754 (4pm to 6pm weekdays)
• Whatsup: 0800 942 8787 (noon to midnight)
• Depression helpline: 0800 111 757 (24-hour service)
• Rainbow Youth: (09) 376 4155
• The Word
If it is an emergency and you feel like you or someone else is at risk, call 111.
- APNZ