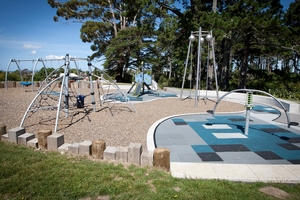 A man has been arrested and charged over an alleged sex attack on a 6-year-old girl in a west Auckland park on New Year's Day.
The 20-year-old, from west Auckland, has been charged with kidnapping and assault with intent to commit sexual violation.
He was tracked down after information was received from the public following an appeal on Friday, police said.
The man will appear before Waitakere District Court tomorrow.
Detective in charge of the investigation into the attack thanked members of the public for their help in the manhunt.
"Because the incident is now before the courts we're limited as to what we can say, but I can tell you that the family of the victim were very relieved to hear this news, and we're grateful for the help we received from both the public and the media,'' said Detective Sergeant Peter Litherland, of Waitakere Police.
Earlier Mr Litherland said the child, who required hospital treatment for scratches after the assault, had been recovering well.
"I spoke to her parents today and they're just trying to get back to some normality,'' he said.
"She's doing pretty good, actually.''
The girl had been playing with two other children in Glendene Reserve when the assault allegedly happened around 8.20pm on New Year's Day. Police said the children were approached by a man who struck up a conversation with them, but when the children began to walk away from him he grabbed the girl and carried her further into the park.
He fled the scene barefoot, leaving behind a pair of white JayJays jandals. The girl's mother ran to help after hearing her screams.