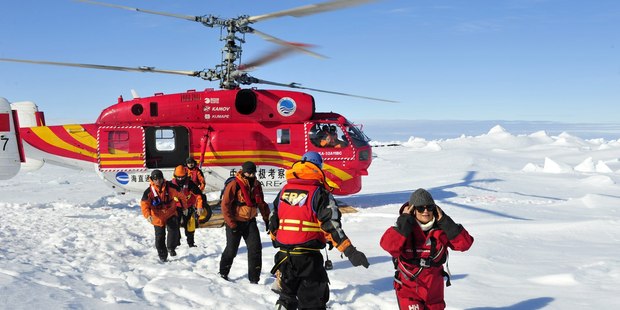 The crew of a Chinese icebreaker that had provided the helicopter said they were worried about their own ship's ability to move through the ice. Photo / AP
A ship which came to the aid of ice-bound research vessel Akademik Shokalskiy in Antarctica is now itself 'beset by ice', the Australian Maritime Safety Authority says.
Chinese ship the Xue Long had been sent to help the stricken Russian research ship which had 52 people on board, including six New Zealanders.
They have been transferred by helicopter to a third ship, the Aurora Australis, which is now in open water en-route to Australian Antarctica base Casey Station.
But the Australian Maritime Safety Authority (AMSA) said this morning the Xue Long's attempt to manoeuvre through the ice early this morning was unsuccessful and it was now beset by ice.
``The Master of Xue Long has confirmed to AMSA that the ship is safe, it is not in distress and does not require assistance at this time.
``There is no immediate danger to personnel on board the Xue Long. The Xue Long has advised AMSA it has food supplies for several weeks.''
The Aurora Australis had been placed on standby as a precautionary measure, but it had since been stood down.
After resupplying at Casey Station it would continue to Hobart.
A crew member on board the Aurora Australis said some of the passengers required medications which would be flown to Casey Station. He would not expand on what the medications were but said everybody on board was ``fine''.
The scientific team, led by scientists from the University of New South Wales, had been recreating Australian explorer Douglas Mawson's 1911 to 1913 voyage to Antarctica when they became stuck. They had set out from Bluff on November 28.
The six New Zealanders are ornithologist Kerry-Jayne Wilson, University of Auckland doctoral student Colin Tan, historians John and Barbara Tucker, and two chefs.