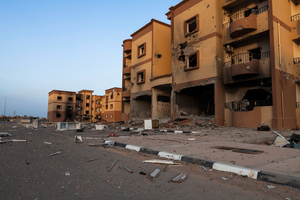 The Ministry of Foreign Affairs is looking into reports that a New Zealand woman has been shot dead, along with a British man, in western Libya.
The pair were both found with gunshot wounds near the coastal area of Mellitah, a security source told Reuters.
Mellitah, 100km west of Tripoli, is the site of a large oil and gas complex co-owned by Italy's ENI.
The bodies, which were lying next to each other, were found next to their luggage. Their belongings were not stolen and the motive for their killing was unclear, a security source said.
While the pair reportedly worked at the complex, another report said they were teachers in Tripoli.
New Zealand's Foreign Affairs Ministry said it was aware of the incident and was looking into it.
"The Ministry of Foreign Affairs and Trade is aware of reports that a New Zealander may have been killed in Libya.
We are working with the relevant authorities to confirm this," Mfat spokesman Adam Crichton said.
Britain's Foreign Office was also investigating.
"We are aware of reports that the bodies of two foreign nationals have been found in Libya and urgently seeking further information from the authorities," a spokesman said.
A control room operator at Mellitah Oil and Gas in Libya said the pair had jobs at the company.
"There is no exact information about where they were working at. They said that they have some jobs at Mellitah," he told APNZ.
"I haven't seen an English man or a New Zealand woman here before, but they have told us that they have some jobs at Mellitah."
The operator said he did not know why the pair had been killed.
"The thing that we know is that both of them died. We don't know also the reason, [if] anybody killed them and why, I'm sorry, we don't have any information about that.
"We are waiting also, we are waiting. All of us, also foreign people, all are afraid about that."
The operator said the pair were found far from Mellitah near Sabratah, about 74km west of Tripoli.
Mellitah Oil and Gas is co-owned by Italian oil company Eni and operates an offshore platform and a gas pipeline to Italy.
The Associated Press reported that the pair were both teachers and worked in Tripoli.
The incident comes less than a month after an American teacher was shot to death in the eastern city of Benghazi.
In a separate incident overnight, two Americans were being held by the Libyan army at its headquarters in the eastern city of Benghazi, several security and army sources told Reuters.
Both were arrested on the campus of Benghazi University, a security source said.
- APNZ