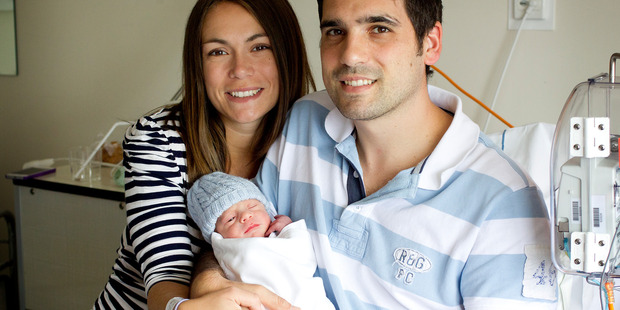 The parents of one of the first babies born in New Zealand this year say the extent of their celebrations will involve being tucked up in bed and trying to get some sleep.
Oliver George Merola was born at 12.10am at Waikato Hospital today weighing 2.47kg, making him one of the first babies born in New Zealand in 2014.
Parents at Auckland hospital welcomed a baby girl at 12:01am , reported Newstalk ZB.
But while Oliver's due date was in early February, his birth was brought forward five weeks because of complications with his mother's pregnancy.
Proud parents Sian and Joe Merola were today doting on their new arrival who was about to return to the neonatal intensive care unit for a check-up when the Herald spoke with them.
"He's not bad considering how early he is...He needed to come early because he wasn't doing too well'' said mum Sian, a GP.
Oliver's dad, Joe, who works as a neurologist at Waikato Hospital said the birth of his son - the couple's first child - had been a surreal experience for them both.
"Everything happened a lot earlier than we thought and we were thrown in the deep end a bit,'' he said.
"But when things settled down it was amazing.''
The couple, who moved to New Zealand from Wales about three years ago, hoped their little boy would grow up to be a "proper little Kiwi kid'' who is happy and healthy.
They have already shared the news with family back in the UK, who had just seen in the new year themselves, via Skype and Viber.
Asked how they would celebrate, Mr Merola said "is sleep a way of celebrating ?''.