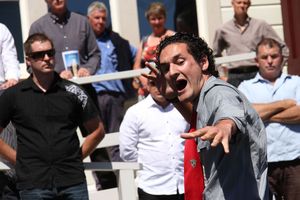 The funeral of Miroslav Tvaroh, a star of Wairarapa United's premier football team, was held yesterday at Anzac Hall in Featherston.
Friends and family packed the hall to pay tribute to the talented player and passionate surfer.
Mr Tvaroh, 34, had gone missing on Christmas Eve and his body was found two days later at Castle Rock, a rocky outcrop on the Riversdale Beach side of The Gap.
Regarded as a linchpin of Wairarapa United's premier football team, Mr Tvaroh - a holding midfielder - played more than 100 games for the top team.
He was employed as Wairarapa United's development coach and was also the head coach of the Heartland Wairarapa under-20 side.
Mr Tvaroh, who suffered from depression, was reported missing by his partner Simona on Christmas Eve and was found dead on Boxing Day after an Amalgamated Helicopters crew spotted his body at low tide.
Wairarapa United's head coach Phil Keinzley, speaking at the funeral, said Mr Tvaroh struggled every day and the stigma of depression made it difficult for him to communicate.
Some blamed themselves for his death but "nobody is to blame", said Mr Keinzley.
"He was extremely depressed, every day was a struggle."
Mr Keinzley said being more open about depression and lessening the stigma could help others.
"We have got to be ready to listen."
Mr Keinzley said Mr Tvaroh lived with high expectations and didn't realise how much he contributed to his friends and teammates.
"He provided me with motivation, there were times when I wanted to chuck it in, he was my motivation.
"There is a life lesson out of this - we are all important to somebody else."
There were tears and laughter as Mr Keinzley shared some of his memories.
One particular memory was of, after a game, Mr Tvaroh telling a woman player "for a female you're not too bad, I actually thought you were a male".
Miroslav couldn't understand why the woman was angry at him, said Mr Keinzley.
As well as football, Mr Tvaroh was passionate about surfing.
"He just loved the sea, that was his escape."
Mr Keinzley said he felt privileged to be a part of his life.
"Miroslav, I hope you have found peace."
Many from Wairarapa's football fraternity paid tribute to Mr Tvaroh.
His friend, Andrew Kerr, spoke about the time he and his wife had lived with Mr Tvaroh before he moved out with Simona.
He liked to jokingly call us 'mum and dad', Mr Kerr recalled.
Shaun Dunbar, said the coach turned young players into stars.
"The dedication to these boys is second to none.
"From your football family, we love you."
Aaron Spierling, who plays for Wairarapa United, led a haka facing the coffin and hearse.
He had been close to Mr Tvaroh.
"We were all honoured to play alongside you," he said, his voice cracking.
Some of the ashes from the cremation of Mr Tvaroh's body will be taken to Castlepoint and scattered at sea.
Mr Tvaroh's parents Miroslav and Bozena and sister Radka, in the Czech Republic, could not attend the funeral.
NEED HELP?
Depression helpline 0800 111 757
Suicide Crisis helpline 0508 828 865
Lifeline 0800 543 354
Youthline 0800 376 633
For more articles from this region, go to Wairarapa Times-Age