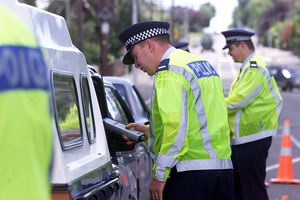 An Auckland chef caught at more than twice the legal drink-drive limit on Christmas Day was arrested again on Boxing Day with an even higher breath-alcohol reading, police say.
The 43-year-old man was caught on Pakuranga Rd on Christmas afternoon, when police say his breath-alcohol reading was more than 2 times the adult limit.
The next day, he was stopped again on the same road about 9pm, and police say he was more than three times over the limit.
Sergeant Tony Curry said such behaviour was "hazardous", and the Boxing Day reading was particularly alarming.
"It's huge. It's not just that they've had a couple of glasses of wine with Christmas dinner. It's a very high reading and it takes a lot of alcohol and a long time to get there."
To be caught two days in a row was obviously twice as bad.
"It doesn't get much worse," Mr Curry said. "That's a problem. There's no excuses for that.
"It's not just that he might hurt himself, he could hurt others. It's a fairly selfish thing to be driving around the street drunk."
The man appeared in the Manukau District Court yesterday on two charges of drink-driving and one of driving while suspended.
On Christmas Day, the man was taken to the police station for breath-testing, Mr Curry said. His licence was suspended and he was released.
The next night, he was again taken to the station, but this time was held in the cells overnight.
"I hope that he just learns from this and ... realises that he's made horrendous mistakes."
From next December, the breath-alcohol limit will reduce from 400mcg of alcohol per litre of breath to 250mcg. The blood limit will drop from 80mg of alcohol per 100ml of blood to 50mg.