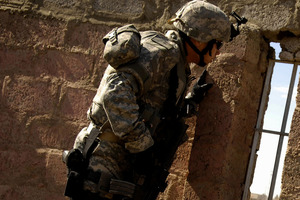 An elite New Zealand soldier who has served in some of the worst conflict zones in recent history will not be dismissed despite being convicted of stealing military equipment.
The SAS soldier, who cannot be named, was also found guilty yesterday of unlawful possession of "thunder flashes" - small explosives which simulate battle noise - and previously admitted disobeying orders by keeping a privately owned gun in his barracks.
He was also found guilty of stealing two JPoint sights and a charging handle for a military rifle, which he had offered for sale at an Auckland gun shop.
Judge Christopher Hodson, who has presided over the court martial at Papakura Military Camp this week, said if the man had been convicted of another charge he faced - of possession of the heavy-duty explosive Semtex - he would have been dismissed from the Defence Force. Instead, Judge Hodson fined him $4,700.
He said there had been no loss to the Defence Force as a result of the theft because equipment the soldier had purchased himself had ended up being returned to the army.
The man was acquitted on charges of stealing a pistol holder and unlawful possession of live ammunition.
Before a sentence was imposed, the soldier, who had served in Afghanistan and Bosnia, made submissions to the court in which he said his life had been "hell" since the allegations were made about a year ago.
"I even felt remorse for even joining the army ... just to be treated like this, in this manner."
He had spent long periods confined to barracks and was eventually assigned to a small New Zealand outpost, where he had no job description and took instruction from civilians.
"I was kind of hating life," he said. "It also made some pretty big gaps between me and my comrades with all the rumours going around without facts to back them up."
Furthermore, it had made it difficult for the soldier to fulfil his parental responsibilities to his child because he did not have a fixed address.
Prosecutor Major Peter Brock said, despite his previous good character, the man should be sentenced to detention and dismissed from service.
"This unit requires high standards, and in this offending [the man] has fallen short of those high standards."
Defence lawyer Melinda Mason said the hardship the soldier had already suffered should be taken into account when imposing a sentence.
"He has served his country on a number of occasions and been on tours constantly.
"He is a person that we should be grateful to have in the Defence Force."
He had previously been described as an "exemplary soldier".
A Defence Force spokeswoman said the man could be stood down from the SAS, and that would be a decision for his unit to make.
- APNZ