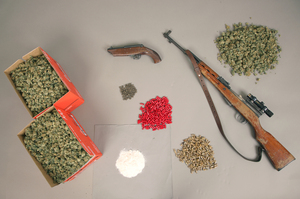 Houses, motorbikes, drugs and nearly $40,000 were seized during a major police sting that targeted the Road Knights Motorcycle Gang in the deep south today.
The 10-month drug operation, Operation Crimson, came to a close today with 14 search warrants executed and 17 arrests made.
Police searched properties in Invercargill, Alexandra, Roxburgh and the Moa Creek area, operation spokesman Detective Senior Sergeant Malcolm Inglis said.
Police seized $38,000 in cash and large quantities of drugs, including cannabis, BZPs and ecstasy analogues.
Seven houses - five in Invercargill, one in Roxburgh and one in Moa Creek - and two motorbikes were restrained under the Criminal Proceeds (Recovery) Act 2009.
The sting amounted to hundreds of thousands of dollars worth of property, Mr Inglis said.
A total of 195 charges are being laid in connection to the operation, representing 450 offences.
Of today's arrests there were 10 men and seven women aged from 22 to 78, Mr Inglis said.
A large proportion of those arrested were linked to the Road Knights.
They were arrested on a variety of Class A, B and C drug dealing charges and possession of firearms and cannabis cultivation charges.
Most were to appear in the Invercargill District Court today.
"As part of Operation Crimson police have identified a crime family who are integral to the operation and structure of the Road Knights gang," Mr Inglis said.
"This is a family who appear to have a made a substantial living from the proceeds of illegal activities."
He warned police would continue to target criminal gangs.
The Road Knights Outlaw Motorcycle Gang was the dominant gang based in Invercargill and had been operating from there since 1986.
As part of Operation Crimson, police in a joint operation with Customs in July and August this year identified and intercepted 1kg of the drug Pentedrone, an analogue of Ecstasy, with a street value of more than $125k.
A 29-year-old Dunedin man linked to the Road Knights Motorcycle Gang and a 42-year-old man and 50-year-old woman both from Balclutha were arrested and charged in August.
In total, illicit drugs with an estimated street value of $160,000 have been seized during Operation Crimson, Mr Inglis said.
- APNZ