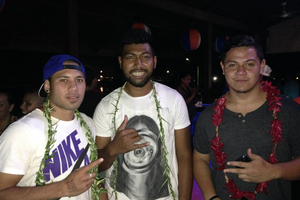 The driver of a vehicle that crashed in Samoa - killing two New Zealand men - is set to face charges later this week.
Jesse Risale, 21, and Thesaurus Heather, 20, died when the Land Cruiser they were in lost control and crashed in the early hours of last Thursday in the village of Vailoa, Faleata. The pair had been sitting in the back of the ute at the time.
The 19-year-old female driver remains in Moto'otua Hospital in a serious but stable condition. Another passenger, who was sitting inside the vehicle, walked away with minor injuries.
Samoan assistant police commissioner Fauono Tala Tapu told the Herald this morning that police were yet to speak to the driver properly, as she was still in a bad way.
"We want to wait until she's well enough to be interviewed properly...but we're looking at two charges of negligent driving causing death.''
Mr Tapu said police were unable to carry out a breathalyser test on the driver immediately after the accident, but it is understood she had been drinking alcohol.
A witness to the accident also described to police that he had seen the vehicle "zig-zagging'' just before it crashed.
"A night watchman saw the ute zig-zagging on the road for some time before the crash happened. He said he saw what looked like clothes flying from the vehicle - but they were people.''
Mr Risale, who was on holiday, will be farewelled in his hometown of Porirua, Wellington, at the end of the week. Mr Heather, of Auckland, will be laid to rest in Samoa.