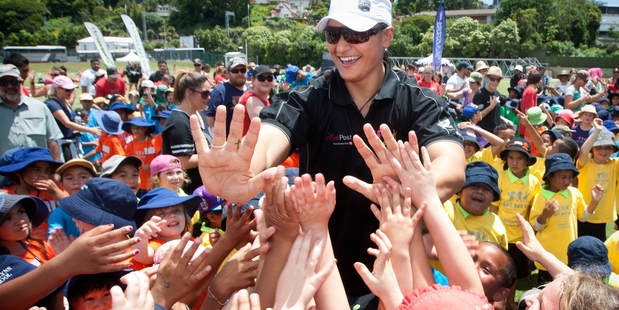 World champion athlete Valerie Adams was mobbed by adoring children wanting high-fives when she arrived at Eden Park yesterday to help them in a schools' basic sports-skills session.
The double Olympic and world champion shot-putter is an ambassador for Get Set Go, a programme to teach youngsters movement and coordination.
More than 800 children from 32 Auckland schools were at the park.
"It was a fantastic day and incredibly worthwhile," said Adams.
"You could tell from the kids' faces just how much fun they had learning how to jump, catch, throw or kick.
"I know I did. And who knows, we may even have unearthed a future star."
Helping Adams with the coaching were Junior Warriors Kouma Sampson and Kurt Robinson.
The manager of the Athletics New Zealand nationwide programme, Karen Laurie, said the aim was to have children confident and competent in basic skills so they were able to enjoy all sports and an active lifestyle.