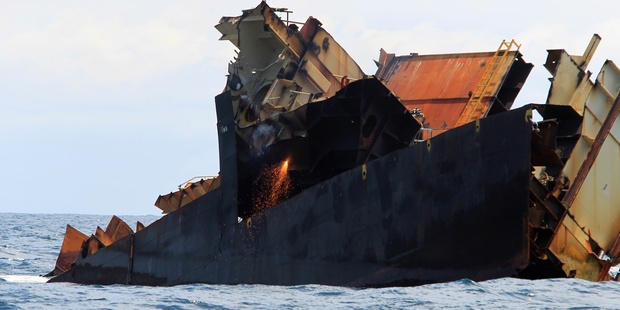 One of the most lengthy, tricky and costly ship salvage jobs in history continues to drag on in the Bay of Plenty, where preparations are underway to strip the stricken Rena of its submerged accommodation block.
The block is a major feature of the containership's sunken stern section, lying 65m below the ocean wedged against the eastern side of Astrolabe Reef off the Tauranga coast.
The ship has been stuck on the reef since its dramatic grounding there in the early hours of October 5, 2011 - a catastrophe that disastrously led to 350 tonnes of heavy fuel oil spilling into the sea.
Specialist salvage divers of Resolve Salvage and Fire have been overseeing the next stage of the long-running operation, a logistical nightmare which has involved a race to pump Marmite-like oil from fuel holds and cranes plucking away containers stacked in high leaning towers.
The new project will see approximately 2000 metres of large industrial three-inch wire chains used to effectively slice the block into two 350-tonne blocks.
In the last week, divers have been removing structures from the wreck, creating vents to allow gases to escape, and marking out and burning holes to eventually feed the wire cutting chains through.
Rigging holes are also being burnt to install specialist protector equipment used during the lift operation.
Diving on this task has been at depths of approximately 46 metres, while other diver preparations have involved cutting down and removing major protruding features such as the large funnel, which would reduce drag and weight once the lift operation began.
Once cut, the two sections will be lifted onto a second barge to be transported to port where they will be dismantled for scrap and recycling.
A team of small craft will be stationed at the reef to collect any debris released during the operation.
At the last estimate, the cost of the disaster and salvage to the owners had hit $300 million, making it one of the costliest salvage jobs in history.
Meanwhile, the ship's owners still haven't made a call on whether they will seek to leave all or part of the remaining wreck on the reef.
Assessments of the wreck's environmental, social and cultural impacts are due to be complete by the end of the year, and until then the owners say any decision to lodge a consent application won't be made.