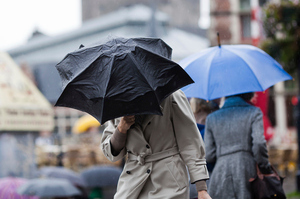 Thunderstorms and heavy rain pelting the parts of the North Island are expected to ease through the evening, forecasters say.
Weatherwatch.co.nz said significant downpours and large thunderstorms had affected three main areas around the North Island this afternoon.
People in areas of south Auckland, Waikato and Taranaki would have witnessed the stormy weather, Weatherwatch.co.nz said.
Residents were warned that ``surface and flash flooding was possible, along with cloud to ground and lightning strikes,'' the organisation said.
MetService severe weather forecaster Erick Brenstrum said a severe weather watch had been implemented for the central North Island area, following thunderstorms and lashing rain this afternoon.
The weather would ease through the evening but residents should still be prepared for some showers throughout the night, he said.
Rain was heaviest around Stratford and Taranaki, Mr Brenstrum said.
- APNZ