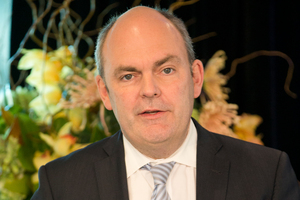 Critics of the Government's sale of Air New Zealand shares who say it will result in reduced services and higher fares for passengers are indulging in "adolescent economics" says Economic Development Minister Steven Joyce.
As tipped by the Herald last week, the Government on Sunday confirmed it will reduce its stake in the airline from 73 per cent to 53 per cent in a sale of shares to investors in a book build process which ends tonight.
That drew criticism from the Greens, the Engineering Printing and Manufacturing Union and business commentator Rod Oram that the reduced Government control and demands for higher profits by more private investors could affect services, conditions for workers or the national flag carrier's strategic direction.
Green Party Co-leader Russel Norman said bigger profits for private investors "could see reduced regional services and increased passenger fares where there is limited or no competition".
Mr Oram yesterday told National Radio that in spite of retaining 53 per cent control other investors with sizeable stakes could work together to "start pushing their ideas on strategy, which may not be in (the company's) best long-term interest".
But Mr Joyce said there would be little difference to the company's operation from the ownership change.
"The Government has no more control at 51 per cent than it does at 73 per cent, than it does at 64 per cent.
"Any of these notions that somehow the magic number of moving from 73 to 53 per cent public ownership... somehow make a difference to the way the company is run is absolutely adolescent economics. The Greens are looking very shrill and very silly about this."
An Air NZ spokeswoman said the Government sell down "will have no impact on our daily operations or relentless focus on delivering world class customer experience and everyday low fares".
Tourism and travel industry figures also saw little potential impact on passengers.
House of Travel commercial director Brent Thomas said it was "a fair question" to ask, but "I don't think they can look to go increasing prices just to get a better return to shareholders because the market won't accept that due to the competition we've got here".
"For a country of just over four million people the number of airlines that come here creates a competitive environment which means pricing is fantastic. "On routes like the Tasman there are so many carriers that New Zealanders can choose, Air NZ couldn't afford to be at a premium over and above airlines of a similar calibre because customers won't necessary pay for that."
Speaking from the Dubai airshow yesterday, executive chairman of the Sydney-based Centre for Asia Pacific Aviation Centre Peter Harbison saw little impact for passengers from the sell down.
"My opinion is that the effect will be negligible."
Through a spokeswoman Tourism Industry Association boss Martin Sneddon said the Air NZ sale "will have no detrimental effect on tourism".
Shares in the airline which is in a trading halt until the sale process is completed last changed hands at $1.65 each on Friday.
Under the bookbuild, the Government and its advisors seek and analyse bids for shares from sharebrokers and institutional investors such as KiwiSaver funds. From those bids, the Government and its advisors selects those which maximise the price received while meeting other objectives including maintaining 85 per cent New Zealand ownership. The final price investors pay is decided at the end of that process.