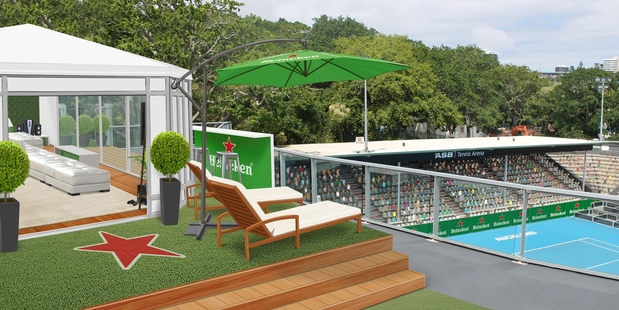 A rooftop apartment complete with spa, swimming pool and sauna will provide the best seats in the house for two lucky punters heading to the tennis early next year.
The Heineken Open is giving two people the chance to win the custom-built pop-up luxury apartment fitted out with all the mod-cons for the duration of the tennis tournament, which runs for a week from January 6.
It will have a 360-degree bird's-eye view of the centre court and include a range of of amenities.
A 24-hour private concierge will be made available to the house guests, who will get quality cuisine catered by the SkyCity Restaurant Group, and a stocked fridge for the whole of their stay.
Heineken will announce details of the competition today.
Spokeswoman Jen Macindoe said organisers were hoping to get more people excited about tennis.
"We're creating a true festival of tennis in the same league as other major tennis tournaments around the world," she said.
Those housed in the apartment will be guaranteed shelter if rain arrives. Last year, members of the public were nearly always armed with an umbrella when turning up to the big tennis competitions.
The 2012 ASB Classic and Heineken Open were slightly marred when bad weather ruined the Classic's final and delayed two quarter-finals and semifinals of the Heineken Open.
To enter the competition, go to heineken.com/openplay.