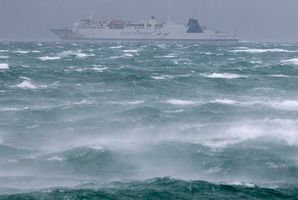 The Interislander's largest passenger ferry is expected to be out for six months after losing one of its propellers last week.
The KiwiRail-owned Cook Strait ferry service said it would be operating at nearly half its capacity over the peak summer period as repairs were carried out on its "workhorse'' Aratere ship.
The Aratere lost its propeller during a Cook Strait crossing last Tuesday.
"At this stage, we expect the ship will not be operating a passenger service for up to six months, a leased ship would not be in service until mid-January and we will have constrained capacity during this period,'' Interislander general manager Thomas Davis said.
"The Aratere is the workhorse of our fleet and carries out 38 crossings a week, which is 14 more crossings than the Kaitaki and the Arahura would normally carry out.
"It provides 45 percent of Interislander's total capacity, and while we are intent on minimising disruption and restoring certainty around future bookings as quickly as possible, we will not be able to carry our usual freight and passenger volumes with our existing timetable.''
While existing passenger and vehicle bookings would be honoured, with many being rescheduled to alternative services, no new vehicle bookings would be taken - with only foot passengers accepted.
"We originally forecast to carry approximately 200,000 passengers and 55,000 cars during December and January. We now expect to carry only 140,000 passengers and 33,000 vehicles without an additional ship,'' Mr Davis said.
- APNZ