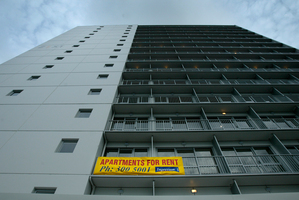 A real estate agent's marketing statements should have been understood as "puffery and hyperbole" and were not misleading, the Real Estate Agents Disciplinary Tribunal has found.
Agent Daphne Brown has successfully overturned a serious misconduct decision in relation to the marketing of an Auckland central city apartment.
The tribunal upheld an appeal against a decision that misleading information was provided in the statement: "currently we're experiencing a buoyant property market in Auckland. All the indications are that this is not likely to change now or in the future. The best time to invest is NOW".
The tribunal said that statement would have been taken by any objective viewer as "puffery or hyperbole".
A second charge of serious misconduct was upheld by the tribunal.
The charges were in relation to a marketing scheme by LJ Hooker, trading as City Investment Services Limited (CISL), which promoted Auckland apartments as investment properties. Mrs Brown was principal officer of CISL.
In 2006, Hamilton couple bought an apartment in the Zest building, which is now worth significantly less than the purchase price.
They had attended a seminar run by LJ Hooker, and were then visited by an agent who told them the property market was rising and they could make a profit within two to three years.
The couple paid $248,000 for the apartment, which they borrowed $253,500 to purchase.
In 2010 the couple were incurring losses of about $11,000 a year and wanted to sell, but found it was by then worth only $143,000.
The tribunal's decision said the property had since risen in value but was still worth considerably less than LJ Hooker's estimate of more than $300,000 after six years.
It upheld a decision that CISL had given the couple the impression of working on their behalf, which amounted to serious misconduct. The tribunal described the licensee's actions as "a deliberate and serious departure from the acceptable standards".
Mrs Brown was fined $450. Under the law in force in 2006, the maximum fine is $750.