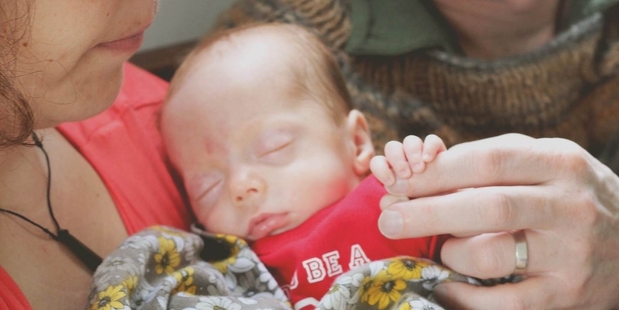 She was born 11 weeks prematurely and spent her first 76 days connected to an incubator, but now baby Lily Hewgill is home and progressing "full steam ahead".
Amy and Greg Hewgill spent the first 50 days of their daughter's life fighting to get her out of a Chinese hospital.
Members of the public gave more than $100,000 to bring Lily home to New Zealand, and after another 26 days in Auckland's Starship hospital she was discharged two weeks before her due birth date.
Lily is now approaching 4 months, weighs 3.3kg and is developing "full steam ahead", according to Mrs Hewgill.
"She's surprised all of her doctors how well she is doing," she said from the family's Meadowbank home. "She doesn't have any ill-effects from the experience, she is growing really well at the normal rate. She's just settling in like any other normal baby."
On their way home from a holiday in Europe, Mrs Hewgill went into labour in July.
She was 27 weeks pregnant and gave birth to Lily, who weighed only 990g.
Lily spent the next seven weeks in an incubator at Shanghai children's hospital with Mrs Hewgill by her side to supply milk, while Mr Hewgill returned to New Zealand to raise funds for Lily's care, which had to be prepaid.
Mrs Hewgill said they were overwhelmed with the messages of support received from around the world.