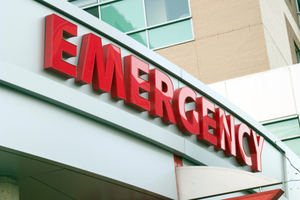 A Wairarapa woman who took days to seek help for her 3-year-old daughter's broken leg has been sentenced to two years and three months in prison.
Terri Cheire Pickering, 25, was charged with neglect after doctors found her daughter's leg was so badly broken that bones could be seen through the wound.
Pickering - a former Featherston resident who now lives in Upper Hutt - appeared teary as Judge Denys Barry handed out the sentence in the Wellington District Court this afternoon.
Her daughter was believed to have had the injury for up to a week before she was taken to Wairarapa Hospital in November last year, before being transferred to Hutt Hospital for emergency treatment.
Judge Barry said reports from an orthopaedic surgeon indicated the now 4-year-old was recovering from the ordeal, however she would be left with a "lifelong disability" as a result of the injury.
When she presented at Wairarapa Hospital last November, medical staff found a "hole approximately 5cm by 6cm in diameter on her lower left leg, just below the knee," he said.
Crown prosecutor Emma Light told the court one doctor described it as one of the worst cases of neglect he had seen in his 30 years as a consultant paediatrician.
During his sentencing summary, Judge Barry said several medical practitioners had concluded the child's mother and her partner would have noticed serious injury developing.
"That neglect led to this gaping wound exposing the bone."
"It clearly was a manifestly visible injury ... as the medical people said [it was] up to some days before the child was taken to hospital."
An argument from Pickering's lawyer, Jonathon Miller, that a nerve disorder the child suffered from - which lessened her ability to feel pain - factored in her mother's ignorance to the child's injury was rejected by Judge Barry as "superficial".
"Any parent with that child constantly must have become aware that there was a wound developing."
The child had also undergone seven surgeries related to her injury, which included skin grafts, and a wound from the injury continued to cause problems.
Judge Barry said Pickering had admitted to using cannabis regularly; turning to the drug when she was unable to afford prescription medication.
A bid for name suppression was rejected earlier today, with Judge Barry saying he could see nothing that would cause undue hardship to the girl. She is now living with her father.
Pickering's partner also pleaded guilty to neglect and is due to be sentenced in the next few weeks.
- APNZ