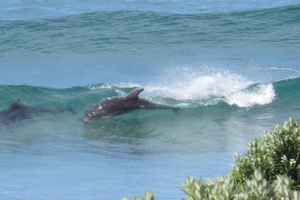 Ocean Beach resident and keen surfer Pete Mitchell shares the water with dolphins, he says.
On Friday afternoon two adults and one young dolphin came over to him in the water and caught a few waves with him. "It's pretty awesome when they come and interact with you, but it is slight scary too. They are so big and so fast. When you're riding the wave with them they're kind of like crazy teenagers, zig-zagging in the water underneath you and you think 'I hope you know what you're doing'," Mr Mitchell said.
Mr Mitchell said in the afternoons and evening the dolphins can be quite frisky and give him a little bit of a nudge.
"One time they were getting really excited on the waves and I actually got out of the water."
He said the dolphins are most common in summer months.
"We've definitely noticed reasonable numbers in the last two or three years. They will tend to hang around a while and we get quite a crowd on the beach to watch them," he said.
"It's always lovely to have a surf with them."
For more articles from this region, go to Northern Advocate