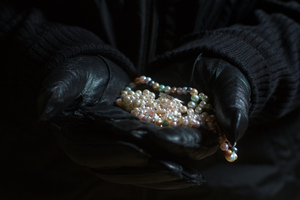 A jeweller realised a robbery was taking place inside his shop after seeing a man helping himself from a display cabinet, a jury has heard.
Jackson Anderson, 25, is facing a charge of the aggravated robbery of Dargaville's Distinction Jewellers on May 16, 2011, two charges of unlawfully taking a motor vehicle and three of petrol thefts.
His trial started before a jury of six women and six men in Whangarei District Court yesterday.
More than $22,000 worth of jewellery, including gold, platinum and diamond rings were stolen in the heist.
Answering questions from Crown prosecutor David Stevens yesterday, Distinction Jewellers' owner Brian Burnett said he discovered the robbery after returning to his shop from the post office and bank on the morning of May 16, 2011.
Mr Burnett said while walking back, he saw an unoccupied black car with its motor running outside his shop which struck him as unusual.
He suspected someone from the car had gone to a nearby butcher in a hurry. But after three more steps he noticed the door of his shop three-quarters open.
Mr Burnett said he initially suspected a customer had opened the door but later saw a person with a black beanie who appeared to be helping himself from a display cabinet.
He said he realised a robbery was taking place and his first reaction was to lock the store.
The robber, he said, told him not to shut the door but he pulled it anyway before running two shops away and calling 111.
Mr Burnett described him as "youngish" and dark-skinned, and wearing dark clothes.
Defence lawyer John Watson asked Mr Burnett whether there were any markings or special features on the stolen items that identified them with his store. Mr Burnett's reply was only the price tags.
Constable Brett Anthony Steel of Dargaville police said Anderson was not at a Te Kopuru house when he did a bail check on the night of May 16, 2011.
The officer said Anderson's mother told him he'd left about 8am that morning with a younger Maori male and hadn't returned since.
Scene of crime officer Tony Martin said a partial shoeprint was located on a glass fragment on the floor but no fingerprints were uplifted from the store.
The trial continues.
For more articles from this region, go to Northern Advocate