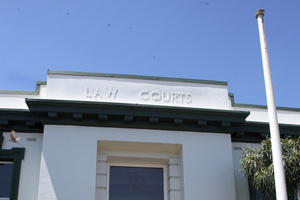 Stopped at an alcohol checkpoint Mark Hemotu Campbell failed to provide a breath test and then refused to give a blood sample as he feared he would get Aids.
The 48-year-old pleaded guilty to refusing to give blood when he appeared before Judge Stephen Harrop in Masterton District Court recently.
Police prosecutor Jodie Lawrence told the court Campbell was stopped by police at an alcohol checkpoint on Chapel St about 6.30pm on September 7.
Undergoing a breath test, the test was incomplete so the officer asked him to take a blood test which he refused to do, Mrs Lawrence said.
"He refused, stating that he was scared of getting HIV."
She also said Campbell had previously been convicted twice of drink driving - in 1989 and 2011. Because it was Campbell's third or subsequent drink driving related offence, the vehicle he was driving could have been confiscated. Defence lawyer Ian Hard said the car had already been disposed off.
He asked the court to order a pre-sentence report with a view to looking at community detention.
Judge Harrop convicted Campbell and remanded him on bail for a pre-sentence report to be completed along with a drug and alcohol assessment.
He is due to be sentenced on December 9.
For more articles from this region, go to Wairarapa Times-Age