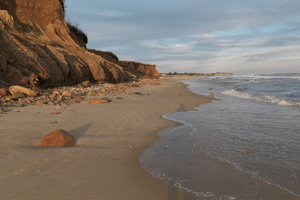 A 7-year-old boy and his 22-year-old uncle drowned when they went to rescue a young relative who was swept into the sea on the East Coast this afternoon.
The pair were part of a group gathering at Iwitea Marae near Wairoa for a family wedding.
Police said the boy was from Auckland and his uncle from Wairoa.
Emergency services were called to a beach area at Iwitea near the Whakaki Lagoon, about 20km north of Wairoa at 12.50pm.
Family members told police the pair went into the water the rescue the young girl when she was swept into the sea by a wave as she walked along the foreshore.
While she made it back to shore, the boy and his uncle did not.
The Lowe Foundation rescue helicopter from Hawkes Bay and the ECT rescue helicopter from Gisborne, plus a fixed aircraft from Gisborne, were involved in the search for the pair before their bodies were recovered.
"The body of the 7-year-old boy was found and recovered by the crew of the Lowe rescue helicopter at about 1.40pm,'' said Sergeant Greg Lexmond of Gisborne police.
"The body was found south of where the pair had gone into the water. The body of the 22-year-old man was found at about 3.30pm.''
Police said the sea conditions were said to be quite choppy but reasonably small at the time.