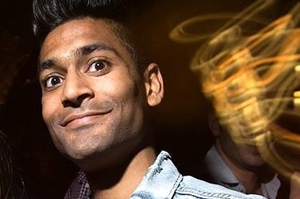 A 27-year-old man has been arrested over a brutal assault in Central Auckland which left a trainee teacher on life support.
Tarun Asthana, 25, is in a critical condition in Auckland City Hospital, surrounded by family and friends, after falling victim to what police describe as a random attack near Britomart at 5.10am yesterday.
Police confirmed this afternoon that a man has been arrested by Auckland CIB and charged with assault.
Enquiries are still continuing and Auckland City Police are seeking any information from anyone who was in the area at the time and witnessed the assault.
Police say Asthana was standing on the pavement after leaving McDonald's when he and another male had a brief exchange of words.
Detective Senior Sergeant Peter Florence said Asthana was punched in the head and fell "heavily", striking his head on the pavement.
Eddie Lo had been enjoying a night out with Asthana but left before he was attacked. He said he had been told the trouble flared after Asthana complimented a young woman on her dress.
"She had a go at him because she thought he was hitting on her, and then her boyfriend runs up and smashes him in the head and runs off. He was just complimenting her and she went psycho.
"It's so tragic that this could happen to him."
Lo, a dance instructor, had been to see Asthana in intensive care unit yesterday. "His mother was at his side praying. The waiting room and the entire hallway was filled up with friends and family. It was packed. There was a lot of grieving, a lot of crying."
"He's too young to be in this situation," said Lo.
Asthana had DJed in several Auckland clubs, performing with the Sweet Mix Kids at Britomart bar 1885, said Lo.
Anyone who was in the area at the time should call Auckland police on (09) 302 6516 or Crimestoppers anonymously on 0800 555 111.
- APNZ