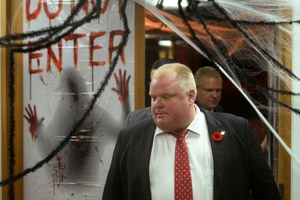 Toronto's Mayor, Rob Ford, has refused once more to resign, even after the Canadian city's police chief revealed that investigators have a video reportedly showing him smoking crack.
"The mayor does appear in that video," Chief Bill Blair told a news conference yesterday, months after Ford first denied illicit drug use. "As a citizen of Toronto I am disappointed."
Ford refused to address the allegations in detail, but declared: "I have no reason to resign."
The 90-second clip had caused an uproar after Canada's largest newspaper, the Toronto Star, and US gossip website Gawker reported its existence in May.
The Star said it had been approached by drug dealers looking to sell the video, allegedly shot using a mobile phone by a person who claimed to have supplied Ford with the drug. The paper said it viewed the video but declined to pay for it.
Gawker had also said that it had seen the footage, which reportedly showed a man resembling Ford lolling back in a chair in a room, inhaling from what appeared to be a glass crack pipe. But later, after raising more than US$200,000 ($242,070) in an online campaign to enable it to buy the video, Gawker said it was told by its unnamed source that the video was "gone".
Blair said police technicians had recovered the video and other data from a hard drive seized in mid-June, after it had been deleted.
"That file contains video images which appear to be those images which were previously reported in the press," he said, adding that the video did not appear to have been doctored.
Ford's longtime friend and occasional driver Alexander Sandro Lisi, who already faces drug charges, was again arrested and charged with extortion in the case. It was not made clear who was the target of the alleged extortion.
In a statement, police accused Lisi of making "extortive efforts to retrieve a recording". The Star has reported that Lisi was involved in attempts to recover the video.
Blair said Ford had not been interviewed by police. He added that criminal charges against Ford were not warranted based on the video, but noted that prosecutors might lay more charges in the case.
Heavily redacted court documents released earlier detailed months of police surveillance of Ford meeting Lisi at petrol stations, a city park, football fields and outside Lisi's home, which is just around the corner from apartments targeted by police in a drug raid.
Authorities used cameras mounted on telephone poles, tracking devices on cars, listening devices and even a small aircraft flying low over the Toronto suburb where Ford lives. They also detailed how Lisi in the hours after news first broke about the video called an alleged gang member and the resident of a notorious drug house where the video was purportedly shot.
Ford initially dismissed drug use allegations as "ridiculous" but his refusal to explain himself fully fuelled speculation, as he jousted with journalists - calling them "maggots" - and assailed his critics.
- AFP