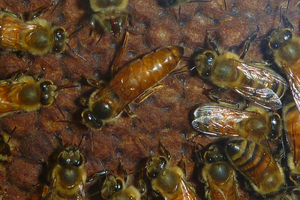 A 43-year-old beekeeper went into "venom overload" after he was stung up to 50 times on the head and neck by a swarm of bees.
The man had been transporting the bees on State Highway 2 near Putorino, in northern Hawkes Bay, yesterday afternoon when he stopped to check on the load. But he says the queen bee flew down his shirt which sent the other bees into a frenzy.
An ambulance transporting a patient from Wairoa came across the dramatic scene, as the man thrashed about with bees swarming all over him.
St John district operations manager Stephen Smith said: "The bees were swarming around him and the queen bee had got into his suit. He was telling the St John staff to stay away and he told other motorists who stopped to help to stay away as well."
A passing logging truck stopped and the man jumped in and was driven about 300m down the road away from the bees and where paramedics were waiting.
"He suffered a huge build up of venom and was quite shocked as well. The other bees just swarmed around him and the queen. Luckily he isn't allergic. If you are, your throat can close up and your tongue can swell."
Lowe Corporation rescue helicopter chief crewman Geoff Taylor said it was lucky the truck driver stopped because the beekeeper was in a bad way.
"He was lucky enough to flag down a logging truck that was passing by," Mr Taylor said. The man had described what happened, he said. "He stopped to check the load ... and the queen bee flew down the back of his shirt. So then he got attacked by the rest of the hive and received multiple stings. You don't obviously count them, but there were enough."
The paramedics called for back up for the man and another unit was sent from Napier, but while it was on its way they decided to call the rescue chopper because of fears the man's condition could deteriorate rapidly.
"He was conscious and able to speak but by the time he was picked up his blood pressure was very low," said Mr Taylor. "He was responding to treatment but we had to get him to hospital quickly for observation in case he went downhill quickly."
The man had received treatment in the ambulance and stayed conscious throughout so was able to tell rescuers what happened to him.
However, some in the bee keeping industry say it is highly unlikely it was the queen bee that stung the man and unleashed the attack.
"That's got to be bull dust - and why is he moving hives in the middle of the day?" said one, who asked not to be named. "What would a queen bee doing flying around? Because they don't fly around usually."
Another said it was strange time of the day to be transporting bee hives.
"Not unless it was cold or wet. Queen bees don't sting humans ... That's bizarre."
A spokeswoman from Hawkes Bay Hospital said the man was in a stable condition and did not want to speak about his ordeal.
- additional reporting APN