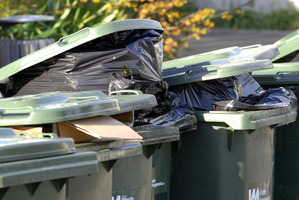 New rules for household waste in Auckland come into effect today.
Changes to the Auckland Council solid waste bylaw, designed to promote recycling, introduce region-wide restrictions around the disposal of garden waste and recyclable materials.
Under the changes, no more than 5 per cent recyclables can be included in bags and bins for non-recyclables.
The bylaw is also part of preparation for a planned organic collection service in 2015.
Solid Waste manager Ian Stupple said many residents could recycle more of their rubbish.
"Around 15 per cent of waste in our rubbish bins and bags consists of material that could have been recycled.
"Recycling right will also help people keep their bills down when it comes time to introduce disposer-pays for rubbish collections," he said.
The bylaw also states how bins should be positioned on the footpath - close to the kerb and not blocking traffic - and maximum weights and volumes of rubbish.
- APNZ