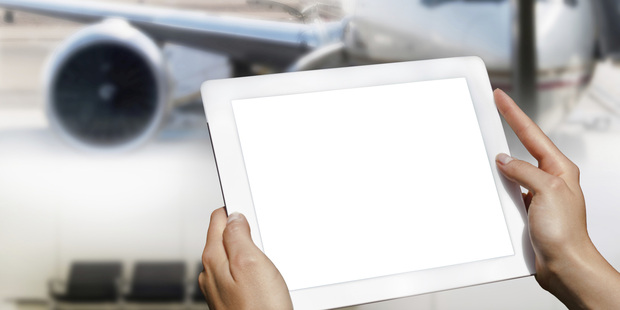 New Zealand passengers flying to and from the US will soon be able to use their electronic devices during take-off and landing at the American end of their flights.
The Federal Aviation Administration (FAA) today announced it will allow passengers on commercial flights to have their e-readers, tablets and mobile phones switched on during those key parts of the flight in addition to other times. However, devices must be switched to airline mode.
It said it was now satisfied that most commercial aircraft can "tolerate radio interference signals" from personal electronic devices.
While the decision does not apply to New Zealand airspace, Air New Zealand said it was likely that a similar change of rules would be made here in the future.
"The New Zealand regulatory regime doesn't currently allow for this, however, it seems probable that a similar approach will be adopted in this jurisdiction in time, and Air New Zealand is in the process of considering the processes we would need to implement to accommodate this," a statement from the airline said.
The FAA's relaxed regulations will include the use of wifi and short-range Bluetooth accessories. However, a ban on making mobile phone calls still applies.
The authority said it had based its decision on information provided by airlines, aviation manufacturers, passengers, pilots, flight attendants, and the mobile technology industry.
While implementation of the relaxed regulations may vary from airline to airline, the FAA said it expected most carriers to allow passengers to use their devices during take-off and landing by the end of the year.
It is likely to bring into effect a recommendation that all airlines assess their fleet to ensure they can withstand radio interference from personal electronic devices.
This will be submitted to the FAA to be verified, before they will be permitted to allow passengers to turn on their devices.
"We believe today's decision honours both our commitment to safety and consumer's increasing desire to use their electronic devices during all phases of their flights," said US Transportation Secretary Anthony Foxx.
APNZ pd cr
- APNZ