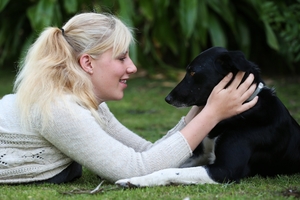 A Tauranga teenager has been reunited with her pet dog after it fell from the back of a ute.
The Purchase family were driving on State Highway 2 near the Domain Rd roundabout in Papamoa on Sunday morning when their dog, Ash, fell off the back of their ute.
Ash was bought for 16-year-old Kate about two-and-a-half years ago, to help her cope with the loss of her mother, who died in a car crash about five years ago.
Yesterday morning, Ash was found in someone's garage about 1km from the Purchases' house.
"We had been around to a lot of the houses near us to see if anyone had seen Ash," Kate said. "We hadn't seen him for four days so we were getting really worried."
Kate said the man went into his garage yesterday and found Ash curled up in a ball.
"He knew it was Ash and brought him home," she said. "Having him back is better than winning Lotto."
Kate said Ash was taken to a vet, who said he was lucky to escape with minor injuries.
"He has some facial injuries, which will probably scar and a claw which could be broken.
"But he is doing really well considering he fell from a car which was going about 8km/h."
Kate said she thought Ash was trying to make his way home.
"I think he would have been pretty frightened about the whole thing and he would have just been exhausted so decided to try and rest in the garage."
Kate said she was thankful to the people who had been in touch offering support.
For more articles from this region, go to Bay of Plenty Times