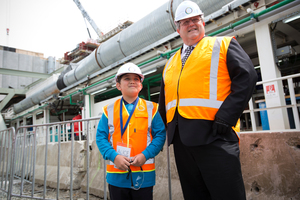 Auckland's giant motorway tunnelling machine has been fired up for its two-year underground journey from Mt Albert to Waterview and back.
Ten-year-old Manukau boy Branden Hall, who won a schools competition to name the 2800-tonne ground-eater Alice, joined Transport Minister Gerry Brownlee in a deep trench in Alan Wood Reserve today to push the ignition button on the machine's 14.46m cutting head.
But after a few ceremonial turns, each taking about 30 seconds, the machine was shut down again for final checks before it can push off against a heavy steel "shove frame" for tunnelling to start next week.


The tunnel boring machine, the world's 15th largest, was built in China from a German design and shipped to Auckland in 97 containers before being reassembled next to where it will dig the first of the $1.4 billion Waterview motorway project's 2.4km twin tunnels.
It will spend a year travelling at up to 8cm a minute - about as fast as a snail - to Waterview where it will be dismantled, turned around, and re-assembled to dig the second tunnel in the opposite direction.
Transport Agency regional highways manager Tommy Parker congratulated the organisation's contracting alliance for completing the most significant milestone of what was a world-scale project, bang on time.
--- Mathew Dearnaley