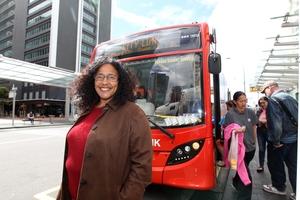 It's a frustration every public transport user knows - waiting for an overdue bus, only to have several turn up at once.
Now Kiwi researchers have found a way to model "bus bunching" and predict where and when it will occur.
University of Canterbury researchers hope the study will help transport planners and bus operators keep buses running to schedule.
"No one has really shown much interest in working out why bus bunching occurs and how to avoid it," said transport engineering professor Alan Nicholson.
The main factors were buses being delayed in traffic between stops, which resulted in more people waiting to board, and a longer boarding time at each stop.
Following buses would then catch up, "so you get these bunches forming".
Mr Nicholson's students gathered data on bus movements in Christchurch. The data was put into a computer model, which correctly predicted where bus bunching would occur.
Shirley Williams has been riding buses in Auckland for 35 years, and is familiar with bus bunching.
"It's a regular occurrence when catching the Inner or Outer Link service on College Hill."
Auckland Transport principal public transport network planner Anthony Cross said the ideal way to keep buses to schedule was to isolate them from other vehicles, such as on the North Shore's Northern Busway.
- APNZ