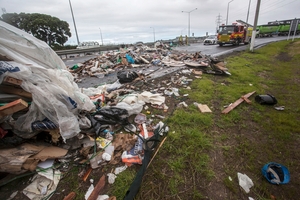 A crane was needed to clear an on-ramp at Onehunga yesterday after a rubbish truck and trailer overturned, spilling debris across the motorway.
The incident occurred at 10am on the Neilson St motorway on-ramp, a link to Auckland Airport.
Fire service spokesman Jaron Phillips said rubbish was obstructing the on-ramp and motorway. The on-ramp was closed for five hours as crews were "having issues" removing the trailer, which was stuck on its side.
Police also closed the left-hand section of the motorway for a short period of time, said Mr Phillips. Traffic was redirected to the Queenstown Rd on-ramp.
No one was injured.