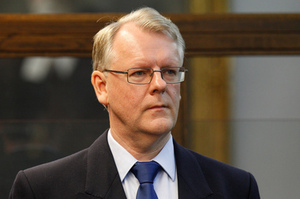 A former osteopath sentenced to eight years in jail for sexual offences against women patients at his Gisborne practice, believed he was a "crusader'' in his field, a court has been told.
Richard James Davis, 53, was sentenced by Justice David Collins in the High Court at Wellington today.
He was earlier found guilty by a jury of 15 offences that included eight sexual connection charges and seven indecent assault charges, against eight women.
Davis was found not guilty of nine other offences.
During today's sentencing, Justice Collins said Davis' offending involved a gross breach of trust of "vulnerable'' patients.
The crimes were planned and pre-meditated against women who were naked or partially naked and in a prone position, he said.
''(Aside from family member offences against children), it's hard to imagine a grosser breach of trust.''
During the course of the treatment, Davis touched the complainants in a sexual manner and did not wear gloves when he touched genital areas, he said.
Justice Collins said he did not consider Davis was remorseful because of his continued denial of the offending.
As well as his prison sentence, Davis also received a first warning under the "three strikes'' legislation.
Defence lawyer, Tony Snell said Davis believed he was a "crusader'' in his field, believing his work could be performed by men.
He now acknowledged he would never be an osteopath again, Mr Snell said.
"He has been publicly humiliated amongst his peers.''
Davis was "extremely saddened'' when he read the victim impact statements because he regarded some of the victims as friends he had let down. Mr Snell said.
Davis stood quietly in grey prison clothes during the sentencing with some family members in the gallery as support.
Crown prosecutor Steve Manning said the most salient feature of the offending was the "significant breach of trust''.
"It was that abuse of that trust that allowed the offending to occur.''
There was "a breathtaking lack of insight'' on Davis' behalf, he said.
The Crown's case was that Davis' behaviour showed a pattern of offending. He told all complainants he was performing clinical treatments and all were asked to remove their underwear, or had it removed, before Davis sexually assaulted them.
The Crown also said techniques he used were not legitimate osteopathic techniques.
The defence had argued that some patients were confused about his treatment, in some cases inappropriate touching was accidental and some complainants were wrong.
- APNZ