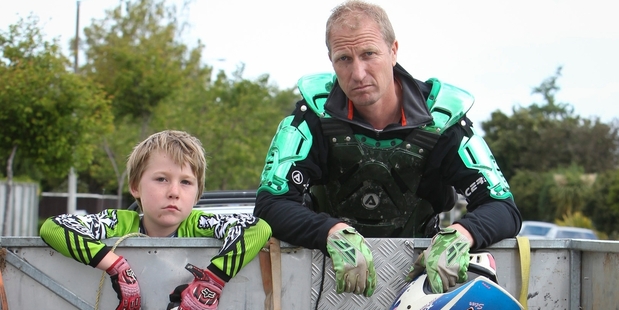 A father and his 8-year-old son are "disheartened" after the latest in a string of Hastings burglaries swiped their prized motorbikes.
James Dean and his son, Campbell, woke last Thursday morning to find their Honda bikes missing from their Hastings St North driveway.
"I came out of the house and the first thing I saw was the tailgate down on the trailer, and I turned to him and said 'sorry mate, our bikes have been stolen'," said Mr Dean.
The two dirt bikes were a red and white 2001 Honda XR70, belonging to Campbell and Mr Dean's white 1995 Honda XR200, with a purple shock spring.
Both were stolen off a trailer in the home's driveway, where they were covered and tied down.
"They must have been working in a group and casing places out. There were lots of knots they would have had to untie, they would have taken their time doing it otherwise they would have made a lot of noise.
One of them would have had to lift the trailer, while the other rolled the bikes off.
"It's pretty disheartening for a 8-year-old kid to have this sort of stuff happening to him."
Campbell said riding his motorbike was his "favourite" thing to do and wants to start racing motorbikes soon.
The 8-year-old said he and his friends at school felt "angry" when he found his bike stolen.
Mr Dean said about a month ago Campbell had a scooter stolen from his mother's house, while a number of other items, including an X-box have been stolen recently.
"I hope we get them back, or what's he going to think about what society is like?"
He said it was "disappointing" knowing that the thieves would sell the bikes for "next to nothing" as soon as they could.
"I shouldn't have to work my ass off to have stuff like this just flogged. I guess I was too trusting.
"I'll have to lock them up inside the shed now and chain them up."
A $500 reward was offered by Mr Dean if the two bikes were returned, which he valued at about $1700.
"I'm happy to pay a reward if we can get these things back, it will be worth it to make him (Campbell) happy again."
For more articles from this region, go to Hawkes Bay Today