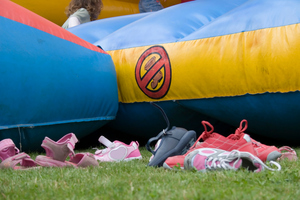 It's believed a four-month-old baby was among several people injured at a windy Northern A&P Show in Rangiora on Saturday.
Several children and adults were reportedly injured when a bouncy castle blew over while children were inside.
Shona Valentine says her four-month-old granddaughter was in her pram and fell to the ground.
"We were attended to by very kind people and helped into our car but we just wanted to get out of there. It was very very windy it was just unbelievable.
She says inflatables shouldn't be used in windy weather.
"I think we were very very lucky to get away with the injuries that we sustained. This four-month-old granddaughter of mine's got a massive bruise on her forehead and I think we were very very lucky."
Event organisers haven't responded to requests for comment.