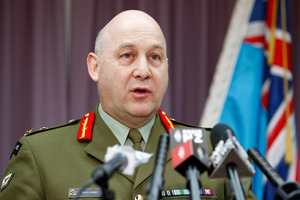 An argument over a laptop is emerging as the incident which sparked the shooting of a New Zealand soldier in Afghanistan.
The "insider'' attack, which occurred in Qargha, near Kabul on Saturday, New Zealand time, occurred as a New Zealand soldier was being escorted from a meeting by two Australian soldiers, said Defence Force chief, Lieutenant General Rhys Jones.
The Kiwi received injuries to his foot.
When describing the attack, Lieutenant General Jones said the trio had been fired on from a lone Afghan soldier who appeared in the space between two buildings.
He opened fire without any warning and there was "no indication of an argument or fighting beforehand,'' he said.
But journalist Jon Stephenson said there was trouble when an Afghan guard tried to stop another man taking the computer.
"And was then approached by a New Zealand sergeant and two Australians, who asked for the laptop back.
"He has resisted handing it over, and there's been a heated verbal argument.''
An Australian soldier was hit in the chest, but received only superficial injuries as all three soldiers were wearing full protection gear.
The decision to shoot the Afghan soldier - who was about 15 metres away from the group - was the correct one in the situation, Lieutenant General Jones said.
The New Zealander was involved with training of the Afghan National Army Officer Academy and had been in Afghanistan for about six weeks, Lieutenant General Jones said.
He had been doing a task in the adjacent Afghan unit and was being escorted by two Australian force protection people when they came under attack.
The sergeant, who the Defence Force would not name, had since spoken with family members in New Zealand.
"He was hit in the foot. Initial assessment is some of the shrapnel - as the bullet hit the chest of the Australian ... the bullet disintegrated - went into the arm of the Australian soldier that was hit. Another part of it went into the foot [of the New Zealander].''
- Newstalk ZB / APNZ
- APNZ