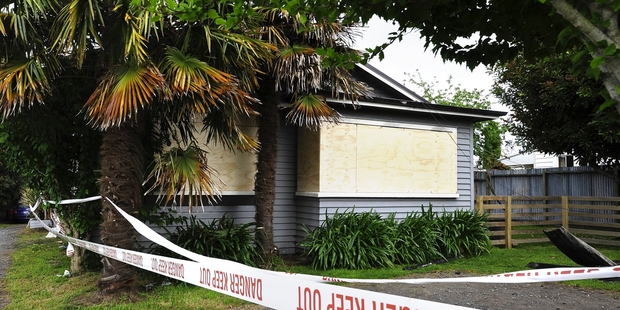 A family have lost everything after their house went up in flames.
Firefighters were called to a house in King St, in Te Puke, about 6.20am on Saturday to find a house fully engulfed in flames. Crews were still at the property at 10.30am dampening down hotspots.
No one was at the property when the Bay of Plenty Times visited the house yesterday. Doors and windows had been boarded up but the fire damage was obvious from the outside.
Tauranga fire safety risk management officer Bill Rackham said he still hadn't determined the cause of the fire and his investigation was on-going.
He said a woman and her three children lived at the house but they were spending the weekend away and the woman's mother was looking after the house.
Mr Rackham said the house had at least one smoke alarm, possibly more.
"At this stage it appears the woman left the house sometime around when the fire started," he said. "I haven't had a chance to talk to her so I don't know if the smoke alarms were activated or if she left because of the smoke."
He said it was hard to understand what had happened without talking to the woman.
"I am hoping to speak with witnesses and that way we will be able to determine the cause."
Mr Rackham said it appeared the fire had started in the lounge and he said it had caused extensive damage to the house.
"Everything in the house has been destroyed, it certainly wasn't a nice way to start the long weekend."
Mr Rackham said he was hoping to determine the cause of the fire in the next few days.
For more articles from this region, go to Bay of Plenty Times