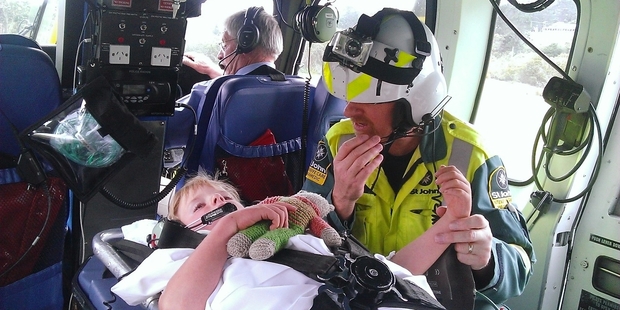 Isaiah Backhouse has always wanted to ride in a helicopter - but being whisked away in one after landing on his head wasn't how the 7-year-old imagined his first flight.
The Auckland schoolboy was staying at a family property at Tinopai, about two hours north of Auckland, when he slipped and fell 3m, landing on his head on the beach below.
He was knocked out for about 20 seconds, but after being roused by his older cousin he managed to walk back to the house to alert his parents.
His father, Ant Backhouse, told the Herald that Isaiah had been playing with his siblings and cousins on the property, which backs on to Komiti Bay beach.
Mr Backhouse said the children were told to be careful near the back of the property because there was a drop.
"He's told us that his cousins were the animals and he was the hunter and he was chasing them," said Mr Backhouse from Whangarei Hospital last night.
"He's lost his footing on some pine needles and loose dirt and slipped down the drop-off on to the beach. There are a lot of rocks down there, so he's lucky he missed and fell on to the sand. His older cousin ... woke him up and they walked up on to the road where the house is."
Isaiah looked dazed when he arrived, and complained of a sore head and neck. His father knew immediately what had happened.
"We got him into the house and sat him down and then we rang the ambulance from there."
The nearest ambulance was an hour away, so St John called the Northland Electricity Rescue Helicopter.
"We had 15 emergency services staff in the house, there was lots of help on hand."
A dazed and sore Isaiah was flown to hospital where he had x-rays and a scan to make sure he had no serious injuries. "He seems to be doing okay," his father said.
"He got his first ride in a helicopter, but unfortunately not one where he could look out the windows."
Mr Backhouse wanted to thank the people who helped Isaiah.
"We're really thankful to everyone involved ..."