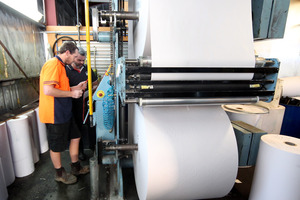 APN's Wanganui printing plant is being closed, with the loss of 21 jobs.
An APN spokesman confirmed the jobs would be lost as APN looked to rationalise its printing operations.
Engineering, Printing and Manufacturing Union (EPMU) print and media industry organiser Paul Tolich described the announcement as "a sad day for Whanganui".
The closure had been flagged for some time so union members weren't surprised, he said.
"But it's always sad to see jobs being lost, especially when there isn't a lot of work out there, especially in the regions."
Thirteen of the workers were full or part-time, and an additional eight are casual workers.
APN is consolidating its printing work at a plant in the Hawkes Bay in response to a downturn in the printing industry, Mr Tolich said.
"We appreciate APN's reasons for closing the plant. It's a sign of the times."
The plant will finally close its doors on December 20. EPMU members at the plant will receive redundancy pay as part of their collective agreement.
- APNZ