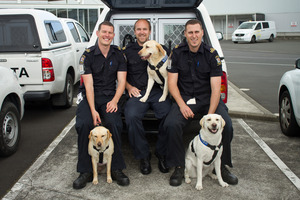 Cash-sniffing dogs have found more than $1 million in concealed money at New Zealand's borders in their first three months on the job.
Three of the dogs, which are also trained to sniff out illicit drugs, have been working at Auckland Airport since August.
A fourth dog has been working at Wellington Airport, and a fifth will be deployed to the South Island next year.
Customs Minister Maurice Williamson said the dogs had already detected $1.09m in cash at airports since August. A further $102,000 has been found using police search warrants.
The dogs are trained to detect New Zealand, Australian and American currencies in amounts of more than $10,000. It is an offence to fail to declare cash of more than that amount.
A pilot earlier this year involving Customs and police dogs saw a total of $385,000 intercepted, including one haul of $139,000.
Mr Williamson said the dogs would hit criminals in the pocket.
"The movement of large sums of cash has been linked to illicit activities and criminal networks, so this added capability to sniff out undeclared or concealed money has hit criminals in the pocket and put them on notice.
"It also sends a clear message to the public to declare cash amounts of more than $10,000. It is Customs' role to ensure money crossing the border is legitimate and is being carried for legitimate purposes."
Failing to declare cash at the border or providing false or misleading information is an offence under the Anti-Money Laundering and Countering Financing of Terrorism Act.
Individuals can be jailed for up to three months and fined up to $10,000, while groups can be fined up to $50,000.
Undeclared or improperly declared money becomes a prohibited good under the Customs and Excise Act, which can result in forfeiture and seizure.
- APNZ