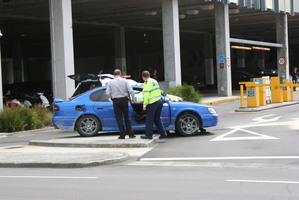 One man is in custody and police are hunting for another man who is evading arrest after a dramatic two-hour police chase today in Manawatu.
The vehicle, a blue Subaru sedan, was reported stolen from Taupo. About 11am this morning the vehicle and its two male occupants were at a petrol station in Wanganui but drove off without paying for petrol, police said.
Police were notified and followed the vehicle as it left Wanganui. The vehicle failed to stop and was pursued to Feilding and Halcombe. Along the way police deployed road spikes but these were unsuccessful.
Officers did not constantly pursue the vehicle for public safety reasons but a helicopter was deployed to follow the vehicle from the air.
The vehicle has driven to Palmerston North where it has crashed into another vehicle on Ferguson Street.
The two men ran from the vehicle and were chased by officers on foot.
One man is now in custody and the other is being tracked by officers in the CBD area.