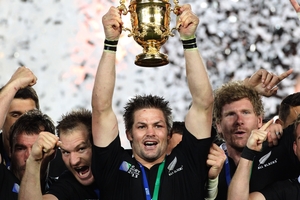 It took 24 years to get him back here, now Bill is leaving us already.
After a two-year stay in New Zealand, the William Webb Ellis trophy - or Bill, as the Rugby World Cup trophy is affectionately known - is taking what many Kiwis hope will be a temporary leave of absence from our shores.
Goal-kicking 1987 World Cup hero Grant Fox will be Bill's companion on a whistlestop tour that takes in return visits to Australia and South Africa before ending in England, where the next event is to be held in 2015.
"I'd like to put on the box 'return to sender 2015'," Fox said.
It was two years ago yesterday that the All Blacks won the World Cup but Bill's unseemly early departure after such a long wait to get him back was in fact perfectly normal, Fox said. "We've held it for two years and now, mid-cycle, it heads back to IRB headquarters."
Bill and Fox depart on Saturday in a DHL courier plane bound for Sydney.
"It's a whirlwind trip," Fox said. "It's going to be a crazy time. We go through Sydney, Cape Town, Jo'burg and up to London by next Thursday and then I am home on Saturday."
After parting company with Fox in London, Bill moves to Dublin, Ireland, where he will sit in on the IRB World Rugby Conference in mid-November.
While New Zealand will remain champions until a new winner is crowned on October 31, 2015, Bill's departure showed focus was on the next event.
"People often talk about the defending champions but I've always had a point of view that you don't look at it like that," said Fox. "This is a tournament. You've got to earn the right to win it again by making the final."