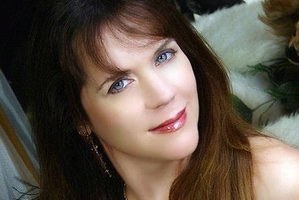 A US writer on human sexuality has been deported from New Zealand after being accused of trying to steal stories from an upmarket magazine.
Janell Wilson, 45, moved to New Zealand last year and she boasted of being a former Calvin Klein underwear model, charming her way into parties at the Dotcom mansion.
Auckland company Destinations Media hired her to design pages for its upmarket travel magazine Corporate Traveller, and she spent time at luxury accommodation Huka Lodge and Te Whau Lodge on Waiheke Island.
But last month, police were called in over allegations Wilson tried to use the stories and photographs in her new travel magazine called Executive Explore.
Sergeant Craig Cartwright interviewed Wilson about accessing a computer system and illegally obtaining property.
"During the course of the investigation, it came to light that Ms Wilson was an overstayer," said Cartwright.
"A decision was made to deport her rather than use further police time and resources to investigate the matter."
Immigration New Zealand confirmed Wilson was deported on September 25.
"At no time while she was in New Zealand did Ms Wilson hold a visa entitling her to work," said spokeswoman Rachel Purdom.
Bruce Laybourn, who hired Wilson at Destinations Media, said: "It has been a very painful experience and we just want to put it behind us."
Herald on Sunday inquiries found Wilson was previously convicted of harassment in Arizona in 2010.
Police in Scottsdale, Arizona, and Royal Mounties in Canada investigated Wilson after she developed an obsession with a former boyfriend, who had tried to end their relationship. Blogging as J.W. Radcliffe, Wilson revealed intimate details about their sex life.
She also claimed to have ties to the mafia.
She was convicted of harassment and ordered to pay the ex-boyfriend's lawyers $2500.
Wilson describes herself as "writing a series of books regarding human sexuality".
She has also blogged about sexual subcultures and desires.
Wilson was also bankrupted in Arizona, had harassment charges brought against her there, and has also been accused of having had a string of problems with magazines.
She was bankrupted in 2007, owing $168,000 on American Express and Bank of America credit cards.
She also had a $300,000 home in Arizona repossessed in 2006.
Speaking from the United States this week, Wilson denied any wrongdoing.
She said Destinations Media had not paid her and said she had "cold, hard, indisputable evidence that can be mass distributed to any and all media outlets in New Zealand, Australia, the United States, globally".
Asked to provide the evidence, Wilson sent long emails of further allegations, but no documentation to verify her claims.