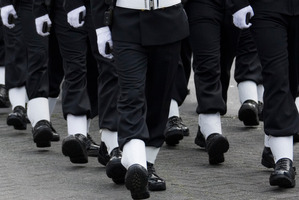 A senior navy officer has been found guilty of charges relating to a relationship with a subordinate at a Court Martial.
Commodore Kevin Keat, 55, had denied eight charges relating to offences under the Armed Forces Discipline Act.
The counts cover breaching orders and other acts likely to prejudice discipline or discredit the service.
A Court Martial, which ended today, Commodore Keat was found guilty of five of the eight charges, Radio New Zealand reported.
Interim suppression orders prevented publishing some details including the extent of the affair and the complainant's name.
The woman at the centre of the trial alleged the Commodore exercised power and control over her employment conditions when she tried to end their affair after several years.
Her accusations include bullying, harassment, stalking and threats to end her career.
The relationship apparently soured after she refused to any longer keep from declaring it on her security clearance form.
The Commodore's lawyer Michael Bott said the complainant's view was different from that of the Commodore who insisted he ended the affair well before she claimed to have put a stop to it.
Each charge carries a maximum penalty of two years in prison.
Commodore Keat was stood down earlier this year from his position as assistant chief in charge of personnel at Defence Force Headquarters in Wellington during a high-level investigation.
- APNZ