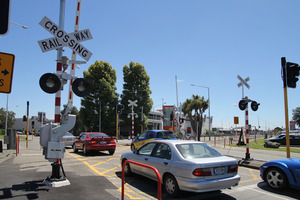 Auckland trains are running to schedule again after a signal failure earlier today halted rail services.
However, some minor disruptions may still be expected, rail operator Transdev said.
Services came back online shortly before 4pm after an outage caused all signal systems across the city to stop working.
The fault occurred around 2.10pm, leaving three trains stranded on tracks around the city and passengers waiting on platforms.
KiwiRail, which operates the signals, reinstated the system by 3.30pm. Trains were running on a 30-minute frequency until 6pm.
Customers were advised to use alternative methods of transport where possible, with AT HOP cards and paper rail tickets accepted on all buses until that time.
"We apologise for any inconvenience customers may have experienced this afternoon,'' Transdev managing director, Terry Scott said.
"Staff worked diligently to get train services running again and I would like to take this opportunity to thank them for their efforts.''
Transdev will remain in contact with KiwiRail to evaluate the cause of the signal failure and to ensure the system remains robust this evening, the company said.
The signal failure affected primary and secondary systems. KiwiRail are working to identify the cause.
Earlier, Transdev warned motorists to stay away from rail tracks as barrier arms at level crossings were not working.
Three trains - Papakura, Sylvia Park and Wiri services - were all halted during the outage, with passengers stranded on board.
- APNZ