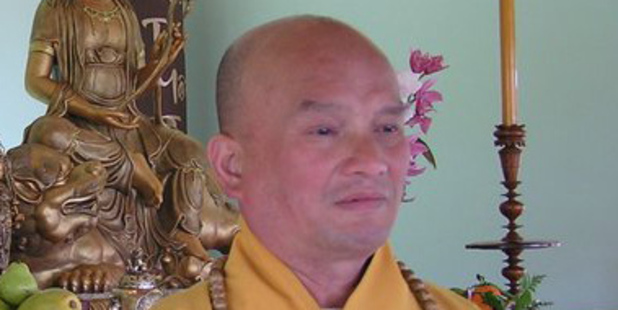 A 52-year-old Papakura man has been arrested in relation to an attack on a Buddhist monk who was bashed unconscious at his South Auckland monastery.
The arrested man will appear in the Papakura District Court on October 17 charged with aggravated robbery.
Senior Venerable Thich Phuoc An, also known as Master An, was assaulted and handcuffed during a robbery at the Quan Am Buddhist Monastery south of Auckland on August 16.
He was hospitalised with fractures and a serious head wound.
"The arrest came about as a result of public assistance after the case appeared on Police 10/7," said police spokeswoman Kimberley Mathews.
Police said three people were seen on CCTV footage.
"We're following lines of inquiry to establish the other people involved in the incident," Ms Mathews said.
A temple member, who told the Herald about the arrest, said the devotees were hopeful that the others would soon be caught.
"For a while, we thought the attackers will get away with this nasty robbery and beating of our master," said the member, who did not want to be identified.
"We are all very happy with this arrest and now think it is just a matter of time before the others will be arrested, too." She said members have been on guard and "very wary" about visiting the temple.
She said the 58-year-old monk had "fully recovered" from his injuries although his arm, which was broken, remained "very weak".
Master An had said that the robbers continued to beat him even after he gave them all the cash he had, which was coins from the temple donation box.
The attackers also smashed a $40,000 cabinet and took away keys to the temple locks and the monk's cellphone.