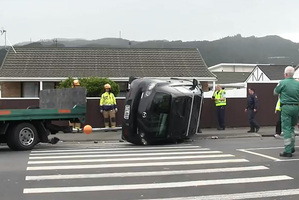 A car ended up on its side after crashing into a pedestrian crossing pole in Upper Hutt this afternoon - after the driver tried to fend off a bee.
Firefighters used their brute strength and a tow truck to tip the car back onto its wheels after the crash on Ferguson Drive about 12.45pm.
The car was then able to be driven out of the way of traffic.
The driver was not seriously injured in the crash.