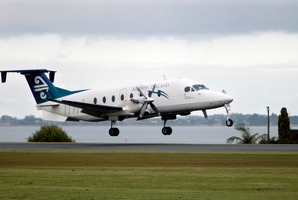 One of Air New Zealand's regional planes was grounded this afternoon after an "electrical smell'' was detected in the cockpit as it came in to land.
A spokesman from the airline confirmed pilots in charge of Eagle Air flight NZ2195 elected to bring the aircraft to a halt on the taxiway at Nelson Airport as a precaution.
"They detected an electrical smell in the cockpit during the approach phase of the flight,'' he said.
The 17 passengers on board left the plane and were transported by bus to the terminal. It had come in from Wellington airport, he said.
"The aircraft will now be inspected by engineers to determine the cause of the smell.''
- APNZ